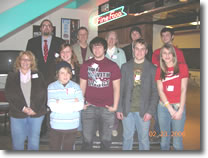 "Poetry Prose and Acoustical Jam 2006"
By Susanna Horn, Waynessence Adviser

(Click on the pictures to enlarge!)

Following tradition, the 14th performance of Wayne College's annual Poetry, Prose, and Acoustical Jam took place on the fourth Thursday of February - February 23, 2006. With support from the Smucker Learning Center, the Filling Station was once again the site of a College-community evening of poetry and prose readings, interspersed with vocal and instrumental music. Wayne College photography students, with encouragement from their professor, Carl Subich, completed the mood with their photography show.
| | |
| --- | --- |
| | Zac Burkey, president of Student Senate, served as master of ceremonies. Waynessence editor-in-chief Jazmin Vaughn, Student Ambassadors Alyssa Fry and Julie Gresser, along with Waynessence staff member Danielle Sobczyk were hosts for the evening. |
Russ Pugh, one of the original PPAJ performers, opened the evening with energetic singing and guitar and harmonica music. Next, Tuslaw High School students Zach Donahue and Steven Cooper made their public debut with song and fast-fingered acoustic guitar music.
To begin the poetry, Emily Curie, who writes a poem each day, read some of her recent creations about winter, including thoughts about birds and snow plows, as well as some verse about the value of writing poetry. Pamela Roeper, award winning prose writer, shared with the audience one of her very first poems, "Guardian Angel." Be looking for the print version in the spring 2006 edition of Waynessence.
| | |
| --- | --- |
| | |
| | Gretchen Pleuss, who recorded her first music CD in 2004, once again charmed the audience with her sweet voice as she sang and played "Outlaw" and "Reflection," two of her recent compositions. Gretchen's new CD, The Outsider, will be available soon. |

During intermission, guests enjoyed free coffee and tea - provided by AVI - and purchased snacks to benefit Waynessence's annual cover contest, which awards cash prizes to the artwork or photography chosen to appear on the covers of the spring edition.

| | | |
| --- | --- | --- |
| | After intermission, retuning PPAJ participant Adam Esson and Dan Lohrenz, members of the group "Betrayed Ending," entertained with Dan singing an original song and Adam performing striking guitar music. | |
| | |
| --- | --- |
| Substituting for Evelyn Steiner Mark, Emily Curie returned to the stage to read two poems by Margaret Reynolds, "For Great and Small" and "Love Springs." | |
| | |
| --- | --- |
| | Next, having driven from Akron where she studies and works as a peer tutor, Paula Miller accompanied herself on the guitar as she sang her original composition, "Coffee Girl," arising out of Paula's experiences as a "coffee house junkie." |
| | | |
| --- | --- | --- |
| | Long-time PPAJ attendee and first time performer, twelve-year-old Ben Lorson, read his brand new poem "Once upon a Kick Flip," about the joys of skateboarding. Be looking for his poem in the spring 2006 edition of Waynessence. | |
| | |
| --- | --- |
| | |
| | To complete the evening, John Lorson, a member of the Wayne College community and writer for The Daily Record, gave us a preview of his upcoming human-interest column about capturing a rooster that was on the loose at the local hospital. Listening in the audience were John's wife Kristen and son Ben as well as John's friend Don Curie, who all appeared in the story - Don as "Einstein," the "Critter Gitter." The audience laughed their way through this final reading and especially appreciated the personal touch of a local story with all the "characters" in attendance. |
Special thanks to the maintenance crew, Word Processing, and Media Support Services, who worked together to make the fourteenth annual Poetry, Prose, and Acoustical Jam a memorable, refreshing evening.