Emerge 2020
A campus visit experience
Prospective students and their families are invited to gather and learn how to take advantage of the educational opportunities before them, as Wayne College expands four-year degree options. Learn what makes Wayne College a desirable educational destination.
Agenda - This event has been postponed until Fall 2020
6:00 - 6:15 p.m.
Welcome, Dr. Jarrod Tudor
6:15 - 6:45 p.m.
Admissions Overview,
Ms. Kristin Foy Samson
6:45 - 7:15 p.m.
Financial Aid & Scholarships Overview,
Ms. Sonya Wagner
7:15 - 7:30 p.m.
Campus Tours,
Wayne College students & staff
7:30 - 8:00 p.m.
Bachelor Degree Breakout Sessions:
- Business Administration, Dr. Jarrod Tudor
- Strategic & Organizational Communication, Dr. Heather Howley
- Early Childhood Inclusive Teacher Prep, Ms. Kelly Chaff
- Nursing, Dr. Catherine Schoenewald
- Social Work, Ms. Lisa Crites
- All remaining degrees, Ms. Wendy Cundiff & Ms. Erika Stafford
8:00 p.m.
Depart Campus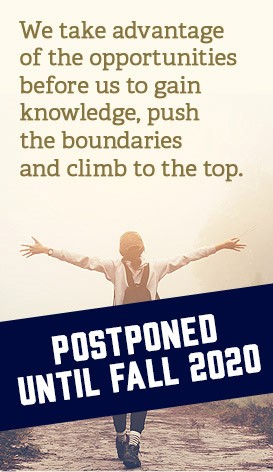 Learn more about our four-year programs
To learn more about the four-year programs currently offered at The University of Akron Wayne College, visit wayne.uakron.edu/fouryear.
Meet the team
Dr. Jarrod Tudor,
Dean
330-907-3362
jtudor@uakron.edu
Dr. Heather Howley,
Associate Professor
330-684-8958
hhowley@uakron.edu
Ms. Sonya Wagner,
Manager, Student Services Center
330-684-8915
sew30@uakron.edu
Ms. Kelly Chaff,
College Program Specialist
330-972-7028
klchaff@uakron.edu
Dr. Catherine Schoenewald,
Nursing Coordinator
330-684-8937
cschoenewald@uakron.edu
Ms. Lisa Crites,
BA/BASW Coordinator
330-684-8707
lkc6@uakron.edu
Ms. Wendy Cundiff,
Academic Advisor
330-684-8907
wcundif@uakron.edu
Ms. Erika Stafford,
Admissions Counselor
330-721-2212
ems203@uakron.edu
Ms. Kristin Foy Samson,
Admissions Counselor
330-684-8912
kcfoy@uakron.edu