Can Writing Be Taught?
02/23/2016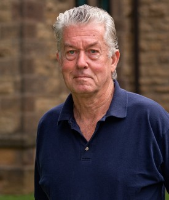 The University of Akron Wayne College invites area writers to attend the 13th annual Writers Workshop on Sat., April 2 from 8:30 a.m.-2:30 p.m. featuring fiction writer P.F. Kluge who will address the question, "Can Writing Be Taught?" The event is open to students and adults. The College is located at 1901 Smucker Rd., Orrville.
Intended for writers and aspiring writers to hone their craft and meet published authors, the event features sessions on poetry writing, ghost writing, writing a novel, developing plot and character, and how the publishing process works.
The event opens with a light breakfast followed by concurrent 75-minute workshops, a panel discussion, lunch, and the featured speaker. An awards ceremony will follow recognizing student and regional writers, including a Writer of the Year Award sponsored by the Daily Record. The event concludes with a book signing featuring workshop presenters.
Kluge is a writer-in-residence at Kenyon College, specializing in the reading and writing of American literature. A former reporter for the Wall Street Journal and an editor for Life magazine, he has written for numerous publications including Playboy, Rolling Stone, Smithsonian and is a contributing editor at National Geographic Traveler. In addition to being the featured speaker, Kluge will also be teaching a workshop titled, "How Novels Are Born."
Other presenters include Dr. Les Hunter, assistant professor of English, Baldwin Wallace University, "Creating Character Through Improvisation" and "Making a Scene"; Sunny Mortond, freelance writer, "Write for Magazines: From Query to Gallery" and "Writing Your Life Stories"; Dr. Joyce Dyer, "The Spacious Place of Memoir"; and, Dr. Jack Kristofco, poet, professor emeritus and dean emeritus of Wayne College, "The 'How To' of Make it New."
For more information or to register, contact Susan Ackerman at 330-684-8985 or 1-800-221-8308, ext. 8985. Registration is $40 before March 25 or $45 after the deadline and for walk-ins. To download the form go to http://wayne.uakron.edu/writers/writers-workshop.dot.
Uniting the Arts & Humanities with Science & Technology