Wayne College hosts 23rd Annual Administrative Professionals Day
04/11/2018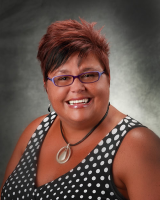 The University of Akron Wayne College will be hosting its 23rd Annual Administrative Professionals Day on Wednesday, April 25 from 8:30 am to 1 pm. This day of pampering for administrative professionals features a guest speaker, vendor displays and networking with others in the field. Located at 1901 Smucker Rd. in Orrville, the event will take place in the Student Life Building.
This year's guest speaker, Angie Giltner, is a 2017 Wayne County Woman of the Year recipient and President of Empower Training & Assessment Company, LLC. Giltner, a licensed social worker, licensed chemical dependency counselor, tier II adoption assessor, and guardian ad litem holds a master's degree in Organizational Leadership. A member of the Elks and secretary of the Wayne County Business Referral Group, Giltner also founded The Power of Her®, which is an annual empowering, inspiring, educational and networking event for women and small businesses. Her professional interests focus on protecting the best interest of children, empowering professionals and leadership development.
Attendees will enjoy a catered breakfast and lunch from Village Catering, inspirational presentations including Laughter Yoga or Something Like It and What Surfers Taught Women about Riding the Waves, networking opportunities and the chance to win door prizes donated by participating vendors. A select few will also enjoy complimentary chair massages on behalf of Stair Steps to Wellness. Event Coordinator Ann Martin stated, "I have been involved in this event for 10 years. I truly believe this event gets better each time, and I feel our guests are in for a special treat this year with Angie Giltner as our guest speaker."
Administrative Professionals Day is sponsored by Bellstores, the Orrville Area Chamber of Commerce and Wooster Appliance Center. Patron sponsors include Jim & Donna Dale Davis, Jarrett Companies and Runion's Furniture.
To register as an attendee, visit wayne.uakron.edu/adminday and complete the online registration form. Attendees can register as a single for $75 or $550 for a table of eight. Event questions can be directed to Martin at abmarti@uakron.edu or 330-684-8941.
The University of Akron Wayne College is an educational and cultural hub for Wayne County and the surrounding region. Student success is achieved through excellent teaching with an emphasis on individualized attention. Students are prepared for further educational pursuits, career success, and lifelong learning. Programming and support services are extended to our Regional Academic Centers, including The University of Akron Millersburg, Medina and Lakewood. To learn more, please visit wayne.uakron.edu.