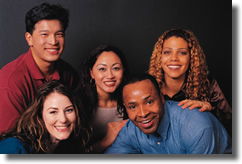 Clubs and organizations are another aspect of student life at Wayne College. Students may choose to join professional clubs that focus on their prospective career or social clubs that give them the opportunity to meet new people and become more involved on campus. While enjoyable and beneficial to most students, clubs and organizations are a voluntary part of the college experience.
Visit all of our clubs online via the new OrgSync Portal

In OrgSync, you will find close to 300 different organizations. This list contains all the organizations from the Akron campus, as well as, Wayne College. You can browse through categories, such as academics, sports, special interest, etc.
To see a listing of organization at the Wayne campus, simply follow these steps:
Click the OrgSync button. Or you can log onto "My Akron" and locate the OrgSync icon.
Click the "Browse Organizations" tab
Click the drop down arrow by the "Categories" button and select "Wayne College"
All of the organizations from Wayne College will appear. Once you find something you would like to join, click that organization icon and then click the "Join Now" button.
For more information, please contact the Coordinator of Student Activities in the Student Life Building, room 119 or e-mail at jackie1@uakron.edu.