Wayne College Awards Posthumous Distinguished Alum Award
04/26/2016

The University of Akron Wayne College Alumni Association has awarded a posthumous Distinguished Alumni Award for 2016 to Lt. Col. Michael Landers.

The award was accepted by Landers' wife, Lisa, at the College's annual graduate recognition ceremony on May 13.

Landers was nominated by Orrville City Councilman and Daily Record columnist John Lorson. John says he distinctly remembers overhearing a remark about Landers when they were students at Wayne College in the early 1980s. Landers was on his way out of the room when Professor Scott Hagen said to fellow faculty member Forrest Smith, "That young man is one to watch!"

Mike lived up to that remark, dedicating his life to military service and earning a reputation as a peacemaker.

A 1977 graduate of Orrville High School, Landers started his education at Wayne College where he served in the student senate, met his future wife, and they both worked as student assistants. According to Lisa, Mike would always speak fondly of his years at Wayne, noting the dedication the faculty and staff had for the welfare of the students. She said Mike was particularly inspired by Hagen, who became a mentor to him and that he always credited the College for encouraging him toward accomplishing bigger and better goals.

Mike and Lisa transferred to The University of Akron in 1982. It was there that he enlisted in the ROTC program, a decision that would change the course of their life together. Mike graduated not only with his bachelor's degree in biology in 1984, but also his commission as an army infantry officer. He continued for the next 29 years to serve in the U.S. Army through nine deployments in three different conflicts before retiring in 2013.

Landers never stopped learning, earning a master's of business administration at Benedictine College (Kan.) and pursuing his military education which included a course in Air Assault, Combined Arms Service Staff School, Command and General Staff College, Infantry Office Basic and Advanced courses, and a Jumpmaster course.

In 2014, Landers suffered a sudden illness and passed away while serving as a civilian contractor in Riyadh, Saudi Arabia, as chief battle staff commander for Vinnell Arabia.

He was interred in the Western Reserve National Cemetery in Rittman.
Role of peacemaker
The Daily Record's Paul Locher wrote an article about Landers' life in April 2014, interviewing Lisa Landers and Mike's brother, Kevin. Lisa said, "His desire was for a more peaceful world. He spent his life and his career working toward that. At the same time he did that (military) duty, he did his best to provide for his family. He was a tremendous man." Kevin said, "He was a true gentleman, a soldier's soldier and a patriot's patriot. He took his duty to God and country very seriously. He always put himself fourth, humbly behind his God, his country, and his family.
"Mike very much embraced the role of peacemaker," Lorson said. "With the world as his community he worked to bridge the cultural divide between the U.S. troops under his command and the local people they were working with and living among."
The couple has two daughters. Colleen Landers graduated from Kent State University and is employed by Ross Industries in New York, where she lives in Manhattan. Rachel Stafford followed in her father's footsteps, joining the ROTC program at the University of Louisville (Ky.), where she met her husband. Today, she is a 2nd Lt. in the U.S. Army and an active-duty nurse based in Ft. Sam Houston in San Antonio (Tx.).
Dr. Todd Rickel, executive dean of Wayne College and a vice provost at The University of Akron stated, "The college is proud of Lt. Col. Landers as an alumnus and a native son. His distinguished service and dedication to our nation, to Wayne College, and to our community makes him eminently qualified for this important award. Mike's life serves as a roadmap of courage, compassion, and perseverance for generations of students to come. We look forward to honoring both his achievements and his life at our upcoming graduate recognition ceremony."
"To this day, he manages to make me proud of him!" Lisa said. "He would have been honored and humbled by this award. I know he appreciated the foundation Wayne College provided him."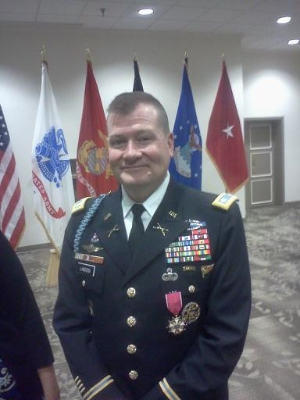 Lt. Col. Michael Landers