The Power of One
06/30/2016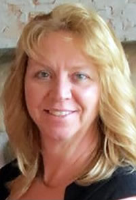 The last in a series of three articles about 2016 Wayne College graduates and what is next
At 50 years old, recent Wayne College Exercise Science Technology graduate Cindy Hampton says she has finally decided what she wants to be when she grows up: a personal trainer. Her dream is being realized later in life, but if not for the intervention of a caring high school counselor, it may not have happened at all.

"My life at home growing up was less than desirable and education was not a priority," Cindy said. She missed 75 days of school her freshman year of high school and her sophomore year was not much better. "I wasn't sure I was even going to graduate, but thank God for my high school counselor," Cindy said. Her counselor was earning a master's degree in psychology and asked if Cindy would be willing to sit in on six weekly counseling sessions. During that one-on-one time, Cindy realized she was letting what was happening at home impact her life. She realized she had to take control and make better choices. She turned her life around, working hard and earning her diploma on time. "That was a huge accomplishment for me," she said. Despite her notable accomplishment, she did not see herself going to college.

Fast forward six years. Cindy was married and living in California. As the wife of a Marine, she learned how to be independent, and she gained the confidence she needed over time, enough to enroll at the local college. "I was a nervous wreck, but once I sat in that first class, I was hooked. Then, when I got my first 'A', I knew I could do this."

But then life happened. Cindy's husband was transferred before she could finish her degree, and then came the next big phase in her life, children. College was put on hold as she spent the next eight years being a stay-at-home mom, volunteering in the schools and for families of children with special needs, while also supporting other military families.

Cindy and her family moved nine times in 22 years, but in that time, the desire to go back to school stayed with her. Cindy's story is shared by many non-traditional students at Wayne College. Often times students start their degree, but life interrupts their plans. There is always the intention of returning "some day," but things happen and time passes quickly.

So in 2000, when the opportunity to go back to school presented itself, Cindy jumped at the chance. This time, the transition back into classes was smoother and she easily completed the classes needed to earn an Associate of Arts degree. Proud of her achievement, Cindy still wanted more and was considering continuing her education. However, just like before, life had other plans for her. It was time to move the family again.

Fast forward to 2013 when Cindy and her family were living in Wayne County. It was actually while Cindy's daughter was looking for a school that they both discovered Wayne College. "Being on campus renewed my desire to go back," she said. But then doubt set in. "I was 47 years old. I would be 50 when I graduate! Plus, I had no idea what I wanted to do." Then, she noticed the Exercise Science Technology display on the wall and it clicked. "I knew what I was going to be doing when I turned 50. I've always enjoyed exercising and find great satisfaction from helping others. I decided then and there I was going to be a personal trainer."

Cindy recalls the first day of class when the old feelings of nervousness and doubt set in. It did not help when she looked around and saw nothing but faces that were the same age as her children. Then the instructor walked in and she was young, too. But as the days went on, she realized that she was a student just like everyone else. "From the first time I walked through the doors to this very moment, I have received nothing but encouragement, motivation, and support from fellow students, staff and especially the faculty." She credits her instructor, Dr. Angela Hartsock, for being patient and helping her set the stage for success. Another important professor was Dr. John Roncone. "He always takes the time to help students individually so that they leave his class feeling empowered and ready for the next challenge," she said. "Whether encountering him in class, in the hallway, or in the café, his dedication and passion for sharing his knowledge shined through."

Over the following two years there were times when she doubted whether she would be able to finish her degree, then life happened again and this time it proved to her that she was on the right path. First, Cindy's mother fell a couple of times and each time broke an arm. More recently, a friend had bypass surgery to open five arteries. "In both cases, lifestyle was a contributing factor. These events solidified my determination to make a difference in people's lives through personal training." Another reinforcing factor was the people she met in all phases in life during her internship at HealthPoint. "From the young athlete looking to improve her sport to the elderly person working to gain their independence, these people needed encouragement to succeed. I want to be that someone who impacts others lives and makes a difference."

The power to change someone's life; just like her high school counselor did for her.

Cindy shared this story with her fellow graduates and their families as a featured speaker at the College's annual Graduate Recognition Ceremony in May. With her own family members there for support, she noted that everyone's journey is different, but that everyone had a lot in common.

"We are here to celebrate the milestone we have achieved, but it doesn't come without a lot of hard work, many sacrifices, and the help of those around us," she said. "You each have worked hard to gain knowledge and have the potential to go and be that someone who can make a difference, make an impact. Just as I benefited from people who motivated me to succeed, I encourage all of you to take that role and run with it, keep learning, but at the same time be the teacher, be the mentor, pass your experience and knowledge to someone else who needs it."
"A lot of people say that college isn't for everyone, but I think it is. It just comes at different times for different people," says Traci Carmony, admissions counselor for non-traditional students. "For some, it's the right thing to do right out of high school. For others, it comes after working a dead-end job, losing a job, or going through a life-changing event. Cindy inspires us to never give up on our dream. It may take longer or look different, but it's still there waiting, and so is Wayne College."
Cindy is currently studying for her personal training certification and hopes to take the test in August.