UA Millersburg transitions into local high schools to make College Credit Plus more accessible for local students
05/14/2020
The University of Akron Millersburg, a regional academic center of The University of Akron, will close its Millersburg campus, located on E. Jackson St., at the end of spring semester. UA will continue to offer courses in both East and West Holmes Local School Districts to be more accessible for local students.
Opening its doors in 2003 as The University of Akron Wayne College Holmes County Higher Education Center, the center originally offered general education courses for College Credit Plus (CCP), traditional and nontraditional students, along with a number of noncredit courses. In 2018, the center was rebranded as UA Millersburg under the direction of Dr. Jarrod Tudor, dean of Wayne College and the regional academic centers. Over the years, the enrollment has transitioned to mainly CCP students.
CCP is Ohio's dual enrollment program that provides students in grades 7-12 the opportunity to earn college and high school credit at the same time. This program helps to strengthen the 7-12 grade curriculum, helps reduce the total number of credits needed to be earned in college, and potentially reduces the time required to obtain a degree and the costs to parents, students, school districts and taxpayers.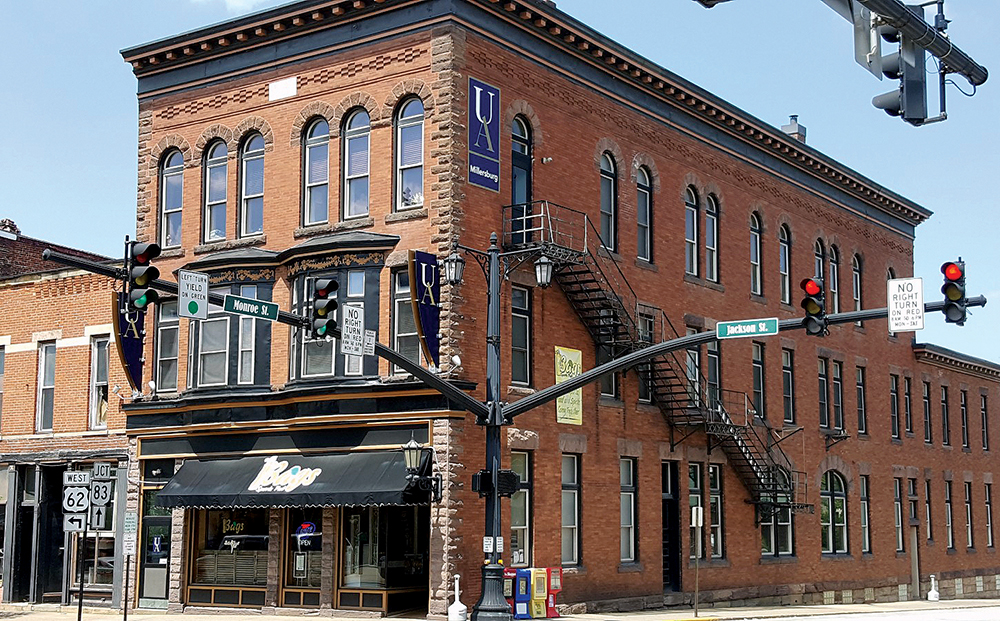 The University of Akron Millersburg has been located in this building since opening to students.
Originally known as the Postsecondary Enrollment Options Program (PSEOP), which started in 1989, the CCP program has seen significant growth and changes. In 2015, the program was renamed College Credit Plus.
With advances in technology to offer courses remotely and the evolution of the CCP program, high schools began offering more of these courses in their buildings.
"With East and West Holmes Local School Districts offering more and more CCP courses in their buildings, it didn't make sense to keep the campus open," stated Tudor. "We are working with the school districts to improve the delivery of CCP courses while making our own operations more efficient."
"Ironically, closing the doors at the Millersburg campus actually signals the progress that has been made in Holmes County in opening the doors to higher education for the group of students interested in pursuing future college and career goals while in high school," said Jim Lawrence, academic advisor for CCP students. "By delivering the same quality higher education opportunities within West Holmes and Hiland High School buildings, we are eliminating transportation and scheduling issues for more Holmes County students."
All courses offered in the local schools are through The University of Akron Wayne College located in Orrville. In the fall of 2019, UA Wayne College had the largest CCP enrollment out of all of Ohio's regional college campuses, totaling 974 students.
UA Wayne College is also partnering with West Holmes High School to provide space for future noncredit courses and ACT testing.
To learn more about the CCP program in Holmes County, please contact Kristin Foy Samson, admissions counselor at kcfoy@uakron.edu or learn more at The University of Akron Wayne College.
---
Media contact: Traci Carmony, 330-684-8909 or traci2@uakron.edu.