Poetry, Prose & Acoustical Jam Celebrates 24th Year
02/16/2016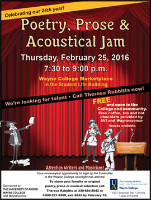 Writers, performers and musicians are invited to "Join the Jam" at The University of Wayne College's annual Poetry, Prose & Acoustical Jam on Thurs., Feb. 25 at 7:30 pm in the Student Life Building. The College is located at 1901 Smucker Rd. in Orrville. The event is free and open to the public.
In its 24th year, this coffeehouse-style event is an opportunity for aspiring artists and musicians to enjoy five minutes in the spotlight. Participants are invited to perform their favorite or original poem, prose or music. The event is sponsored by Waynessence, the College's literary and arts publication, and is open to students and the community-at-large.
Complimentary hot beverages will be served courtesy of AVI Food Services, and other refreshments will be available for purchase.
Registration required to perform, but not to attend. Call Theresa at 330-684-8942.
Uniting the Arts & Humanities with Science & Technology