Kimberly Huffman named Wayne College 2018 Distinguished Alum
04/24/2018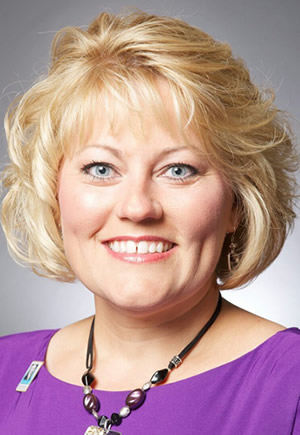 The University of Akron Wayne College Alumni Association is proud to announce Kimberly Huffman as its 2018 Distinguished Alumni Award recipient. The award recognizes graduates who have shown leadership in the workplace and community, and will be formally presented at the Wayne College Graduate and Academic Recognition Ceremony on May 4.
Huffman, a 2015 Ohio Outstanding Secondary Social Studies Teacher Award winner, is a government and economics teacher at the Wayne County Schools Career Center (WCSCC) in Smithville, where she has been since 2000. As an adjunct professor for Stark State College, Huffman teaches political science as a dual-enrollment class at the Career Center.
As one of five children, growing up with a single, legally deaf parent on government assistance, Huffman didn't think college was in her future. After taking a little time off from school after high school graduation, Huffman eventually enrolled at Wayne College. As the first in her family to attend college, she immediately fell in love with Wayne. "It just felt like home," stated Huffman. "They immediately took me under their wing. Everyone was so warm and friendly."
Originally majoring in psychology, Huffman had exhausted all of the classes she could take at Wayne College and was working with her academic advisor on her plan to complete her degree on the Akron campus. This is when she quickly discovered she was going to have to switch her major from psychology. "I did not want to take a foreign language class," exclaimed Huffman. "If I was to remain in psychology, I was going to have to eventually take it, so I switched to education, which didn't require a foreign language," continued Huffman. "It was a perfect fit!" After seven years of classes, while working full-time at Pizza Hut, Huffman graduated with her degree in education.
When asked of favorite memories at Wayne College, Huffman really enjoyed hanging out in the library, her study groups and her history class with Dr. Paul Weinstein, professor of history. "It was just the best class with the best of friends," stated Huffman. "I had Dr. Weinstein in his first year of teaching at Wayne. I challenged him all the time and asked a lot of questions."
To provide knowledge, skill development and experiences necessary for a lifetime of personal and professional growth is the mission of the WCSCC, and Huffman seems to follow suit. In 2008, she was named a James Madison Fellow and was awarded a $24,000 scholarship that allowed her to go back to school. This included a summer studying the US Constitution at Georgetown University. Huffman expressed how this situation gave her access to other teachers, whom she learned from and changed the way she taught her classes. In 2013, Huffman was awarded the James Madison Congressional Fellowship, which is awarded to 1 James Madison Fellow from across the country. This award provides housing, financing and access to work in a US Congressman's office for a month in the summer. She was able to learn about Congress first hand from US Representative James Ranacci's office.
Huffman is a true believer in lifelong learning, receiving her Master of American History and Government from Ashland University in 2011. "Huffman has dedicated herself to teach and to be a mentor for high school and college students," said Steve Thornton, Wayne College Alumni Association member. "She has been a leader in the classroom and within her professional ranks."
Along with the James Madison Fellow and Congressional Fellowship, Huffman was selected as a TOPP Fellow and provided an educational travel experience with educators across the country on a two-week tour of Germany with Trans-Atlantic Outreach Program from the Geothe Institute (2015), has been nominated for the Gilder Lehrman National History Teacher award (2014), is a Mind-Spark Partners Exceptional Educator (2014), had the opportunity to participate in the Liberty Fund Constitutional Convention (2012), one of 16 social studies teachers chosen to attend the Philadelphia Ratifying Convention Seminar of 1787, the Presidential Academy (2011), one of 60 social studies educators chosen from across the country to study the Constitution over three decades, and the Street Law Summer Institute for Teachers, one of 30 educators selected to attend a week at the US Supreme Court ending with a dinner with the Chief Justice.
Huffman advises current Wayne College students to find a career they're passionate about and love. "If you can find a job you truly enjoy, it never feels like work," stated Huffman. "Your job/career should fulfill your purpose in life."
Going back to Huffman falling in love with Wayne College, Huffman also started dating her husband, Mick, her first semester at Wayne. Residents of Smithville, Huffman has two daughters. Alyssa is a senior at Smithville, and Emerald, a sophomore at Wayne College majoring in education. Both daughters have participated in the College Credit Plus program.
Also active in the community, Huffman currently serves on the board of the Wayne County Historical Society, has served as the Green Local Music Booster president for three years and is a member of Pleasant Hill Baptist Church.
Photo caption: Kimberly Huffman, teacher at the WCSCC is the recipient of The University of Akron Wayne College 2018 Distinguished Alumni Award.