Eddie Steiner Named Wayne College 2017 Distinguished Alum
05/05/2017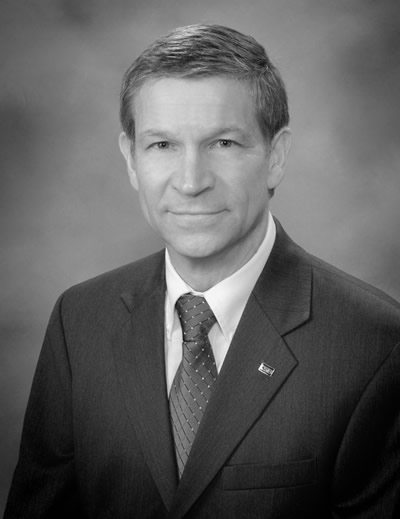 The University of Akron Wayne College Alumni Association is proud to announce Eddie Steiner has been named its 2017 Distinguished Alumni Award recipient. The award recognizes alumni who have shown leadership in the workplace and community, and formally presented at the Wayne College Academic and Graduate Recognition Ceremony May 5.
Steiner is president and CEO of The Commercial and Savings Bank (CSB) headquartered in Millersburg, Ohio. With 15 banking centers in Wayne, Holmes, Tuscarawas and Stark counties, it is the largest independent community bank based in the four county region. Under his leadership CSB promotes building relationships among individuals, businesses, and nonprofits, as well as investment in the local community.
Steiner's path was an unusual one for an executive. It began in manual labor and the pursuit of higher education hung in the balance for a number of years as he sought direction. But others believed in Eddie before he even saw the potential in himself. It was that encouragement that helped him find his purpose and then lit his passion.
After graduating from Central Christian High School in 1973, Steiner knew he eventually wanted to go to college but decided to take a job in construction while he considered his options. It did not take long before he grew restless and decided he was ready to take the next step in life so he enrolled in Wayne College in the fall of 1974. At least, he thought he was ready. "It was an inauspicious start. I lasted one quarter," Steiner said. Looking back, he says his heart was not into it. "I lacked focus and commitment," but the experience of dipping his toe in the college water stuck with him. What he did not realize at the time was how far he would eventually go.
Steiner tabled his educational plans and re-entered the workforce, this time as an auto mechanic. He married and had two children, his wife working part-time in the evenings as a nurse. Six years went by before he seriously started seeing himself in another line of work. It was his employer who first pointed it out. He thought Eddie should be doing more professional work and assigned him some office duties. That was a turning point for Eddie, and he decided it was time to re-enroll at Wayne College. He was still unsure what he wanted to major in, but he knew he had active interest in several professions and he had gained the confidence and maturity to know that it would sort itself out; he just needed to get started.
This time he dove into college. After three short years, Steiner graduated summa cum laude with a bachelor's degree in accounting, taking as many courses as he could on the Wayne Campus before transferring to Akron's main campus for his final year. He found a successful work/life balance thanks to a flexible job schedule, the support of his wife and family, and financial aid from the Wayne and Akron campuses.
Immediately upon graduation Steiner went to work for the accounting firm Ernst and Whinney CPAs (nka Ernst & Young) and in 1985 earned his licensure as a Certified Public Accountant (CPA). He later joined such notable companies as the J.M. Smucker Company and Smith Dairy Products.
But he was still educationally curious and this time he was about to dive deep. Thanks to the personal encouragement of Steve Schmid at Smith Dairy, Steiner began serving on CSB's board of directors in 2001. Steiner quickly found he had a passion for community banking, and in 2006 he was named CEO of CSB Bancorp, Inc. The young man who barely lasted a quarter in his first college experience went on to earn a diploma from ABA's Stonier Graduate School of Banking at the University of Pennsylvania in 2008.
And it all started at Wayne College.
Steiner currently serves on the Banking Commission of the State of Ohio, having been appointed by Gov. John Kasich in 2013. He has also served on the Community Depository Institutions Advisory Council (CDIAC) for the Federal Reserve Board of Governors in Washington D.C. (2013-2015), and on the Federal Reserve Bank of Cleveland's CDIAC (2011-2015). He is a director of the Western Reserve Group, a mutual insurance company located in Wooster, Ohio, and has served on a number of local business, charitable, and faith-based organization boards including Central Christian School, Orrville Area Chamber of Commerce, Main Street Orrville, Ohio Conference of the Mennonite Church and Camp Luz, as well as assisting with capital campaigns for Joel Pomerene and Dunlap Memorial hospitals.
"We each have a different story and mine does not include the traditional college path, but I'm convinced that Wayne College excels in providing an excellent environment for each student's unique journey. Wayne delivers a great foundational experience that takes students where they want to go." Steiner said. "Wayne College made it possible for me to pursue higher education while raising a family, maintaining employment, and staying involved in the community; and I'm very grateful for that opportunity."
He went on to point out Wayne's vital role in the local community. "People live and work in the greater Wayne and Holmes areas by choice," Steiner said. "I'm pleased as a local employer that Wayne College has been able to add more degrees and certifications in recent years, enabling our employees to progress in their careers close to home while they maintain that important work/life balance. The linkage with main campus is especially valuable."
When asked if he could provide advice to others, Steiner offered, "If what you're doing lacks purpose then remain a seeker; finding what lights your passion will energize you and it will enable a vibrant and vital life experience. Purpose-driven work, whether in school or in your vocation is a great determinant of your effectiveness."
A modest man, Steiner appreciates that he had to work for what he achieved. "It's very humbling to receive a recognition like this; anything that I've accomplished was only achieved with the help of many," he said, "and I've learned to appreciate that we don't value things that are just handed to us."
Eddie and his wife, Jane, reside near Millersburg. Their children are both married and they have four grandchildren.
Photo caption: Eddie Steiner, president and CEO, The Commercial Savings Bank (CSB) is the recipient of The University of Akron Wayne College Distinguished Alumni Award for 2017.