Wayne College hosts 2nd Annual Wheelchair Rugby fundraiser
10/25/2018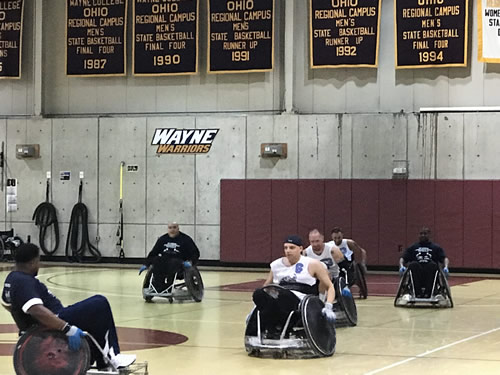 Back by popular demand, The University of Akron Wayne College and Adaptive Sports Program of Ohio (ASPO) are teaming up to host the 2nd Annual Wheelchair Rugby fundraiser. Taking place in Wayne College's Boyer Gymnasium, located at 1901 Smucker Rd. in Orrville, the event is scheduled for Saturday, November 17 from 9 am to 5 pm.
This pay-to-play fundraiser, sponsored by Armstrong and On the Rocks Climbing Gym, gives the community a chance to play a 30 minute scrimmage against the ASPO Wheelchair Rugby team, the Rhinos. It is played on an indoor basketball court and the objective is for a player to carry a ball across the opponent's goal line in order to score a point. A volleyball is used and must be bounced or passed between teammates at least once every 10 seconds during play. The rules include elements of wheelchair basketball, ice hockey, handball and rugby. All equipment will be provided as well as a free event t-shirt.
As stated on ASPO's website, the game was first developed in Canada as a team sport for quadriplegic athletes, and was originally known as "murderball," because of its intense physical nature. After being introduced in the United States, the name was changed to "quad rugby," but it is also commonly known as "wheelchair rugby."
"This is a wonderful event, and I'm so happy to have my students, department and Wayne College to be a part of something so special and inspiring," stated Dr. John Roncone, faculty, Wayne College. "It's great to partner again for a second consecutive year with ASPO to promote a great event with a great cause. It truly brings two community partnerships together, and I look forward to the next one."
The event is open to surrounding communities and no experience is needed. The cost is $100 per team of 4-5 people with or without disability. Registration is online at http://signup.com/go/uMRMGLH. During registration, teams will pick their 30 minute time slot. On game day, it's important for teams to arrive at least a half-hour prior to their play time, so they can be fitted with the equipment. Registration deadline is November 3. All proceeds from this event directly benefit the ASPO's wheelchair rugby program.
Business sponsorships are another way to get involved. Sponsorships range from In-Kind to $500. For more information on sponsorship opportunities, please contact Dilshani Madawala, program manager, Adaptive Sports Program of Ohio at 330-985-0085.
Wayne College, The University of Akron's only regional campus, is an educational and cultural hub for Wayne County and the surrounding region. Student success is achieved through excellent teaching with an emphasis on individualized attention. Students are prepared for further educational pursuits, career success, and lifelong learning. To learn more, please visit wayne.uakron.edu.