Wayne College Multicultural Festival March 6-8
02/05/2019

Celebrating Unity in Diversity is the theme during this year's Multicultural Festival (formerly known as the International Festival) at The University of Akron Wayne College. Taking place March 6-8 in the Student Life Building, attendees can participate in educational sessions, such as "The Impact of ISMS," dealing with racism, sexism, classism, etc., "Cultural Xi'an, China," "Transylvania" and "Progressive Relaxation and Stress Management Techniques." Other sessions include a book discussion exploring diverse places, cultures and time periods, as well as panels on travel and immigration. Located at 1901 Smucker Road in Orrville, the festival and all entertainment is free and open to the public.

The three day event opens with an education day featuring presentations, music, international food tasting, activities and cultural competition displays from student organizations. Day one also includes, Meiver De la Cruz, who performs Egyptian, Saudi and Turkish Roma style belly dance. The following day the exhibits and hands-on activities continue, along with other cultural performers. Visitors will receive a passport to take along as they "travel" between exhibits and activities, acquiring stamps that can be redeemed for a free Multicultural Festival t-shirt. Visitors also have the opportunity to travel the world with Future Cast Virtual Reality Pods. Visitors can visit the Sydney Opera House, Machu Picchu, Taj Mahal or walk the streets of Beijing, Dublin and Saint Petersburg, all from the comfort of the Wayne College campus.

The two exhibit days wrap up with the film, The Hate you Give, which airs in the auditorium of the main classroom building on Thursday, March 7 at 5:30 pm, with a discussion following the film.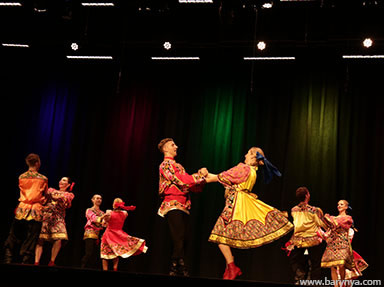 The festival closes with a dynamic performance Friday, March 8 at 7 pm in the Student Life Building when the Russian music, dance and song ensemble, Barynya takes the stage. Established in 1991, Barynya is a world-renowned group that enjoys exalting stature as the premier Russian folk ensemble. Having been invited to perform at some of the most prestigious cultural venues in the United States, Barynya presents Russian, Cossack, Ukrainian, Roma Gypsy, Jewish, Tatar, Siberian Nanai traditional dancing, music, songs and virtuoso performances on instruments including the balalaika, balalaika-contrabass and garmoshka (Russian folk button accordion). Refreshments will be available for sale and doors open at 6:30 pm.
"Exploring other cultures is important to our worldview," said Dr. Jarrod Tudor, dean of Wayne College. "The Multicultural Festival connects our students with the traditions and customs of other countries in a fun and interactive way that highlights our similarities and celebrates diversity."
Wayne College is proud to present the Multicultural Festival, as part of The University of Akron's Rethinking Race forum (uakron.edu/race/). For a full list of Multicultural Festival times and attractions, please visit wayne.uakron.edu or call 330.684.8973. SCHEDULE OF EVENTS