Wayne Warriors ORCC Division Champs
02/05/2016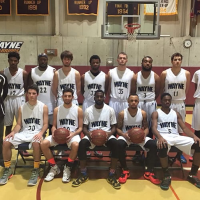 The University of Akron Wayne College is proud to announce its men's basketball team clinched the ORCC (Ohio Regional Campus Conference) Eastern Division Championship Wednesday following a 110-76 victory over Ohio University Eastern. The win is the team's fourth division championship in six years and has earned them the number three seed in upcoming tournament play.
The Warriors came back strong after last year's disappointing finish at the bottom of the conference. According to Wayne College Athletic Director David Rubens, the turnaround started over the summer. "I'm incredibly proud of Head Coach Darren Dirksen and all of the student athletes. They headed back to the gym soon after last year's season ended and now their hard work and sacrifice has paid off. This group has taken a giant step forward for the Wayne Warriors basketball program."
Dirksen, or Coach D as the players call him, has been with the team for three years, but this is his first at the helm. He said that coming into this season, the bar for success was set very high for this team. "I'm very proud to be able to view this season as a success, especially considering where the team finished last year. Like all teams we had ups and downs, but this is a competitive team and they keep rising to new heights."
When asked what stands out about this team, Coach D said it is the comradery among the players and the confidence they have in each other. "Each game someone new is stepping up and playing the key role."
Although Wednesday's victory solidified the Eastern Division regular season championship, Coach D said it is important to keep in mind that this is just a stepping stone to the team's ultimate goal, which is to win the ORCC tournament championship. "I think this team has their best basketball ahead of them. Hopefully that will be seen in tournament play," he added.
Game day is Sun., Feb. 21 at 5 pm against Ohio State Lima at the OSU Mansfield campus.
Wayne College will be hosting the first and second rounds of the 2016-17 men's basketball tournament Feb. 18-19, 2017.
Uniting the Arts & Humanities with Science & Technology