Wayne College to host 3rd Annual Wayne County Mini Maker Faire
04/16/2019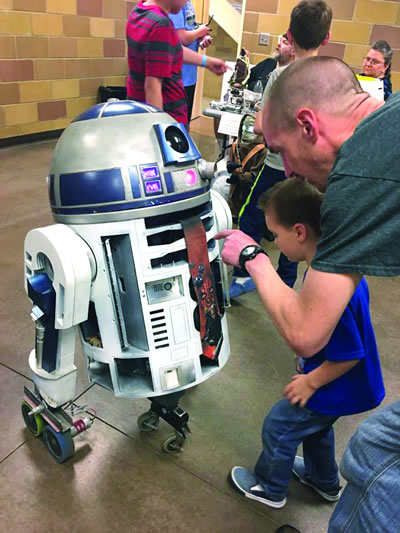 The University of Akron Wayne College will host the 3rd Annual Wayne County Mini Maker Faire on Saturday, May 18 from 10:00 am - 3:00 p.m. This free event is open to the community and features technology, arts, crafts, electronics and more.
Located at 1901 Smucker Rd. in Orrville, this event will showcase 60 makers from Wayne County and surrounding areas. It's a gathering of fascinating, curious people who enjoy learning and love sharing what they do. The Maker Faire showcases hands-on projects and ideas that aren't encountered every day. The 2019 makers include, belt sander drag racing, pirates, soldering, LEGO Earth, model rockets, knitting, video games through the decades, woodcarving, Ventrac's Robot Club, sustainable farming, Lucky 19 Teas, natural dyeing with Hale Farm & Village, maple syrup making with Pleasant Hill Outdoor Camp and many, many more!
This year's Maker Faire will also include family fun entertainment such as face painting, a balloon artist and caricature artist. Food vendors, including Hartzler Dairy, will also be available.
The Wayne County Mini Maker Faire is brought to you by The University of Akron Wayne College and is made possible through the support of two platinum-level sponsors: the Romich Foundation and Make: Makezine.com, along with other local sponsors. For more information or to learn about volunteer opportunities, please visit waynecounty.makerfaire.com, or contact Tom Hammond at makerfaire@uakron.edu.