IT JUST MAKES $ENSE!
Build your degree portfolio at The University of Akron Wayne College. You can earn your associates degree close to home. Once completed, work your way to your bachelor's that fits with your life schedule.
NO ADDITIONAL COSTS
The majority of classes you take during the first two years of your bachelor's degree are considered general education classes. These classes also go towards an Associates of Art or an Associates of Science degree. Therefore, it just makes $ense to get your associates degree on the way to your bachelor's, since you are already taking these classes. It won't cost you any additional money!
BECOME EMPLOYABLE
Meet Ben. He got his associates degree in Exercise Science at UA, Ben also got a job at a local fitness and training center. He is currently working in his field, which has allowed him to not only start making money, but to start gaining valuable work experience in his field of study, as he continues to get his bachelor's degree.
If you're wondering whether it pays to stay in school, take a look at data from the U.S. Bureau of Labor Statistics (BLS): As workers' educational attainment rises, their unemployment rates decrease and earnings increase.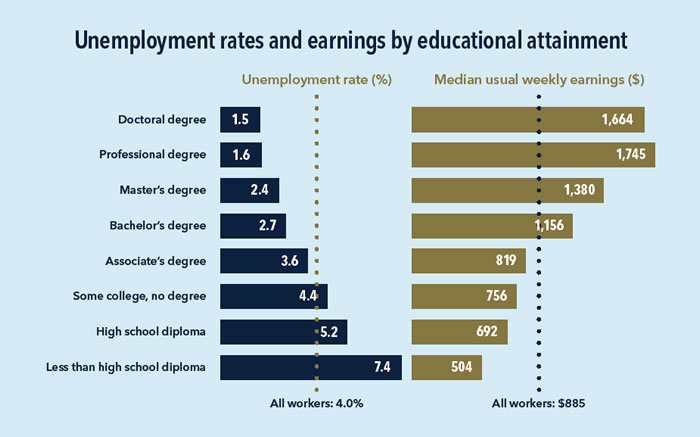 As the chart shows, workers age 25 and over who have less education than a high school diploma had the highest unemployment rate (7.4 percent) and lowest median weekly earnings ($504) in 2016 among those at all education levels. Workers with graduate degrees had the lowest unemployment rates and highest earnings.
This data comes from the BLS Current Population Survey, a monthly survey that collects information about the labor force, including age, employment status, and other characteristics.
TUITION REIMBURSEMENT
As a student working in your field, you have a greater chance of qualifying for tuition reimbursement through your employer. Tuition Reimbursement is a benefit many employers offer as a way to pay back employees for their education/tuition. Each company varies, but most companies require students to pay out of pocket for the course(s) they take, and when the course is over, the employee gets reimbursed.
TRANSFERRING
If your goal is to finish at a different institution, why not transfer in with an associates degree on your portfolio. Transferring into a school with an associates degree gives you a number of advantages. You just saved a lot of money by taking classes close to home, you showed you were able to finish a degree, and if by chance life happens on the way to your bachelor's, you already have a degree. Now that makes $ense!
QUESTIONS?
We are happy to help! To learn more, schedule an appointment with your academic advisor by calling 330-684-8900 or stop by our Student Services Center.