18th Annual (2016)
Shakespeare Festival
1901 Smucker Road • Orrville, OH 44667
Purchase Tickets Here* Seating Chart (PDF)
Thornton Wilder's Our Town
Friday, November 4, 2016 - 7:30 p.m.
The American Shakespeare Center 2016/17 Hungry Hearts Tour Performs Thornton Wilder's Our Town. For more information on the ASC visit www.americanshakespearecenter.com.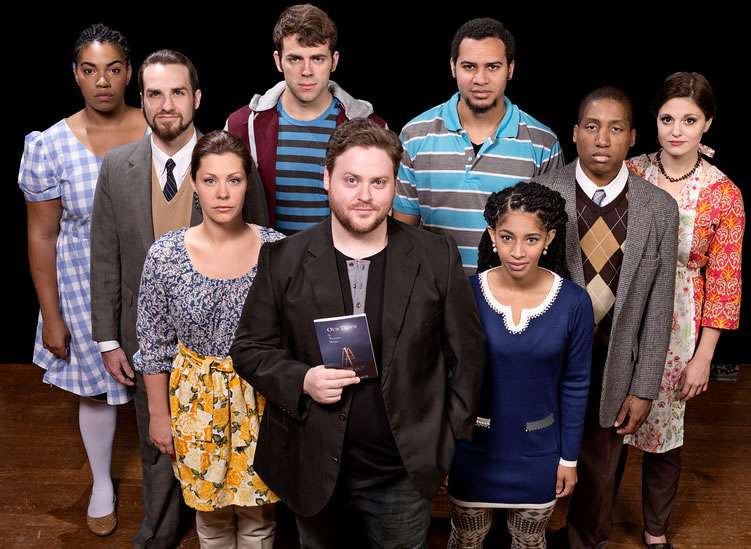 "This is the way we were: in our growing up and in our marrying and in our living and in our dying." A moving look at life in the small town of Grover's Corners, Our Town examines what it means to grow up. Through three acts: "Daily Life," "Love and Marriage," and "Death and Dying," Thornton Wilder studies the deeply personal yet remarkably universal lives of the Webb and Gibbs families. This poignant American tale explores friendship, love, and death, but importantly, what it truly means to live.
The American Shakespeare Center brings a unique performance style to Wayne College, blending Shakespeare's stage craft with modern sensibility. The company uses Shakespeare's staging conditions including universal lighting, minimal sets, doubling, and music. In Shakespeare's day, the company couldn't turn the lights out on the audience; actors and audience shared the same light. The Hungry Hearts Tour leaves the lights on for a type of audience contact rarely seen in modern day theatre. Audience members share directly in the action onstage as they become citizens of Grover's Corners in Our Town, Milan in The Two Gentlemen of Verona, or Verona in Romeo and Juliet.
While Wilder's play is a classic slice of Americana, it is hardly a sentimentalized ideal. For Our Town director (and ASC artistic director) Jim Warren, the play "is about our lives – right here, right now. It asks us to look at our own lives. It reminds us that each day matters." Our Town investigates the complex underpinnings of deceptively simple lives.
The 2016/17 Hungry Hearts production of Our Town features Constance Swain as Emily, and returning ASC tour actors Andrew Goldwasser as Stage Manager and Ross Neal as George. Other returning actors from the 2015/16 Dangerous Dreams Tour are Cordell Cole, Aleca Piper, and Zoe Speas. Rounding out the cast are Josh Clark, Sara J. Griffin, J.C. Long, Kyle Powell, and Ronald Román.
Students (ages 12 and over)

$10.00

Adults

$15.00

---

Tickets on sale beginning Sept. 7 at the Wayne College Cashier's Office,
or by calling 1-800-221-8308 or 330-683-8933
(For phone orders, please have credit card information ready.)


*Tickets are non-refundable



Shakespeare Festival Questions?
2016 Sponsors & Patrons for Shakespeare Festival
(As of 10-11-16)

Silver Level:
Bell Stores
Kropf Wagner Law Firm

Bronze Level:
VIP Travel
Wayne County Community Federal Credit Union
White's Ford on 57

Patrons:
The Apple Creek Banking Co.
Auble Funeral Home
Dr. Debra Johanyak
Green Thumb Floral
Jim and Donna Dale Davis
Lock Ridge Engineering

Gifts in Kind:
Lind Outdoor Advertising Co.
Currently accepting sponsorships for the 2016 Shakespeare Festival. Please contact Kevin Engle at 330-684-8948 or kengle@uakron.edu. On-line donations can also be made at here. Please remember to designate your gift to the 2016 Wayne College Shakespeare Festival.