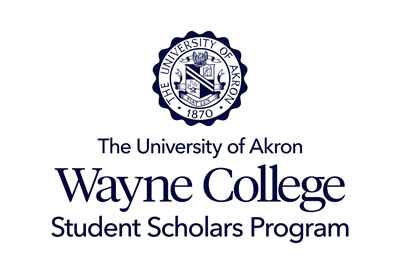 Student Scholars Program
What is the Student Scholars Program?
It is a program designed to recognize and encourage academic excellence for students at Wayne College. Full and part-time students in any major are eligible. The program consists of two parts: an independent study project (called the Individualized Study Project) during fall semester and the Wayne Scholars Colloquium in the spring.
Who is eligible?
All Wayne College students who have completed 24 credits by the beginning of fall semester with a 3.0 GPA are eligible to apply. There is a limit of 25 students for the program per academic year.
Students earn 1-credit hour for their Individualized Study Project. Students will choose a topic that interests them and create a project for further study and exploration. Topics for projects are as diverse as our student body and may be chosen from any academic or professional area.

Students will choose a faculty adviser who will assist the student in designing the project. Advisers will meet with the student regularly to discuss project ideas and evaluate the student's progress and results. Projects are graded as pass/fail. The student and faculty adviser will work together to determine what is considered as passing for the project.

Projects should be designed to be presented (in any form) at a professional conference. Not only does conference presentation provide an additional outlet to discuss Individualized Study projects, but it also allows students to add a valuable experience to their resumes that will allow them to stand out in future professional and/or academic pursuits. Students who are accepted to present their work at a conference are eligible for funding to cover registration and/or travel costs.
Students earn 2-credit hours for the colloquium. The Wayne Scholars Colloquium is a discussion-based seminar that focuses on topics related to humanities, social sciences, or natural sciences. Wayne Scholars Colloquium allows students to explore a topic in-depth with someone who is an expert in a particular topic area. Recent topics have included "Eyes, Lies, and Spies: Privacy in a Changing America," "In the Midst of Water: Origin and Destiny of Life," and "From Arthur Anderson to WorldCom: Making The Case(s) for Ethical Behavior." Typically, the colloquium meets once a week during the spring semester..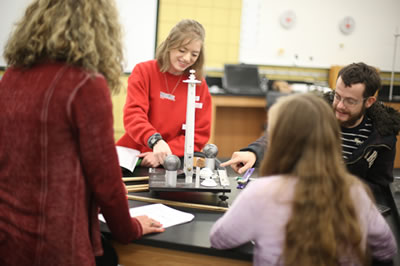 What are the program completion requirements?
To successfully complete the program, students must:
maintain a 3.0 grade point average
successfully complete the Individualized Study Project (1 credit) in the fall
successfully complete the Distinguished Student Colloquium (2 credits) in the spring
What is the cost to you?
Program participants are awarded a Wayne College Student Scholar Program Scholarship to cover the cost of tuition for the Individualized Study Project (one-credit hour) and the Wayne Scholars Colloquium (2 credit-hours). Students pay the general service fees.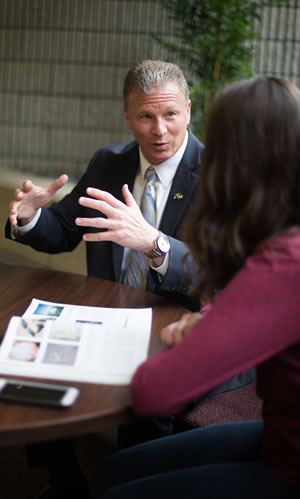 Increased academic development.

Students gain in-depth knowledge in their field, major, or area of interest through the Independent Study project. Depending on their project, students can focus on practical, hands-on experience in their field or major.
The Wayne Scholars Colloquium allows students the opportunity to experience new and innovative course topics in a more intimate setting.
Students will be able to focus on their writing, presentation, and/or applied skills in a mentor/mentee setting.
Building relationships with faculty.

Students establish a close working relationship with their faculty adviser through the Individualized Study Project. Faculty advisers can provide academic and career advice as well as references and recommendations.
Adding value to your resume.

Upon completion of the program, students will earn a note of distinction on their transcripts that shows they completed the Wayne College Student Scholars program. This is helpful for jobs and professional or graduate programs in an increasingly competitive environment.
Individualized Study Projects accepted for conference presentation give students valuable experience that allows them to stand out in the academic and/or professional world.
If students work with an outside agency or community organization, students can make valuable contacts that can lead to jobs, referrals, recommendations, or references.
Progress toward degree completion.

The program provides more options for elective courses.
Associate of Arts or Associate of Science majors may use these credits for electives.
Students should direct questions about their specific majors to academic advisers at Wayne College.
How do you become part of the program?
Follow these steps:
Information sessions will be offered during the spring semester. Any student may attend an information session to learn more about the program and meet the coordinator to discuss any questions they may have.
Choose a topic for your Individualized Study Project.
Find an adviser. Adviser lists are available on the Student Scholar Program webpage and will also be available during the information sessions. If you wish to work with a faculty member not listed, or cannot find an adviser, please contact the program coordinator who will assist you in finding a good match.
Meet with your adviser and have them complete the Faculty Adviser Agreement Form online through the Student Scholar Program page of the Wayne College website.
Complete your application online on the Student Scholar Program page of the Wayne College website.
All student and adviser forms must be completed and submitted by this deadline to be considered. Notification letters will be mailed in late May or early June.
If you have additional questions, please direct them to Dr. Angela Hartsock, Student Scholars Program Coordinator.
Office location: C-211, Email: ahartsock1@uakron.edu