Polynesian Dancers Headline Wayne College International Festival
01/26/2016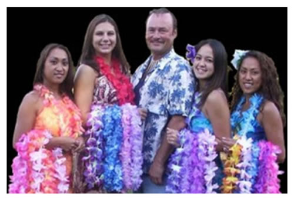 Travel the world without leaving Orrville as The University of Akron Wayne College hosts its annual International Festival Feb. 3-5. The College is located at 1901 Smucker Rd. in Orrville. The festival and all entertainment are free and open to the public.
The three day event opens Wed., Feb. 3 with an educational day featuring speakers, music, art, and a workshop for students that encourages studying abroad through The University of Akron. Thurs., Feb. 4 includes cultural exhibits, hands-on activities, more music, and food samples from around the globe. Visitors will be issued a passport and acquire stamps as they "travel" through the festival, redeeming their booklet for a festival t-shirt.
The distinctive sound of the blowing of the conch shell signals the end of the festival and the beginning of a memorable journey through the exotic Polynesian islands Fri., Feb. 5 at 7 pm. Dancers perform as a narrator shares entertaining history and stories of Tahiti, Hawaii and New Zealand. The performance includes two segments of audience participation and comes to an end with the final number "Drums of the Islands." Seating is limited so early arrival is encouraged.
For a full list of International Festival times and activities, visit http://wayne.uakron.edu/community/international-festival.dot. For additional information, email communityconnections@uakron.edu or call 330-684-8729.
Uniting the Arts & Humanities with Science & Technology