John Lorson named Wayne College 2019 Distinguished Alum
04/30/2019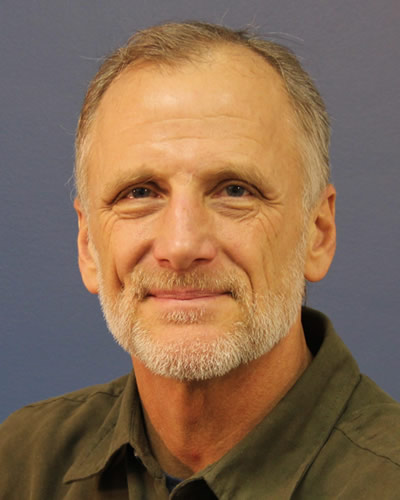 The University of Akron Wayne College Alumni Association is proud to announce John Lorson as its 2019 Distinguished Alumni Award recipient. The award recognizes graduates who have shown leadership in the workplace and community, and will be formally presented at the Wayne College Graduate and Academic Recognition Ceremony on May 10.
Currently a district technician for the Holmes Soil and Water Conservation District, Lorson works to help land owners conserve and improve the quality of land and water resources. Having previously worked as a machinist, an engineer and a college administrator, Lorson found his way back to conservation 29 years after earning his bachelor's degree in biology.
As a recipient of the Orrville Campus Foundation scholarship, Lorson arrived at Wayne College fresh out of Orrville High School. By attending Wayne College and living at home, Lorson was able to keep his job at a local machine shop, which enabled him to pay his own way through college, along with the help of the scholarship, which covered half of the first year's tuition. "It was really my only option," stated Lorson. "Though it quickly became evident that Wayne College was the perfect place for me."
Inspired by John Wiandt, an outstanding ecology teacher at Orrville High School, Lorson decided to major in biology right from the start. "I'd been a science geek all my life and spent most of my days as a kid outside," continued Lorson. "Mr. Wiandt really lit a flame in me to learn as much as I could about the natural world." Later, when transitioning to The University of Akron's main campus to complete his degree, Lorson would add an education minor, with the intent to teach science.
When asked of favorite memories at Wayne College, Lorson felt blessed with a pair of incredible biology professors, Scott Hagen and Forrest Smith. The two professors took Lorson's entire biology class on a field study to Assateague Island National Seashore. "They sent us off in pairs to carry back anything we wanted to learn about, and then they lectured right there from a picnic table," stated Lorson. "We slept in tents and fished for blue crab in the bay, and then cooked it over a campfire. It was the single best educational experience I've ever had." Lorson still has the notes that he took on that trip and still consults the field guide that he bought to take along.
Hagen also served as faculty advisor to Student Senate and encourage Lorson to run. He served as both vice president and president, while at Wayne College, and that experience encouraged him to become involved in volunteer organizations, non-profit boards and eventually local government.
Other Wayne College professors also helped to shape Lorson into the person he is today. Carl Huston (English) helped him realize that he actually liked to write and could be good at it, if he was willing to put in the work. Sue Politella (history/humanities) made him appreciate history, and finally, later in life while he worked at the College, John Kristofco, who was serving as dean at the time, was a huge influence and mentor not only in his career, but with his writing career too.
Having been involved as a Charter Board Member of the Wayne College Alumni Association since it began in 2001, Lorson has served both as chair and vice chair. He has volunteered at many Wayne College events as an emcee and guest speaker. Lorson truly enjoys promoting Wayne College and all it has to offer.
Lorson continues to give back to his community and serves in many leadership roles. He's a member of Orrville City Council, the UA Millersburg Advisory Group and a board member of Goodwill of Wayne and Holmes Counties. Additionally, Lorson has penned a weekly humor column that has appeared in The Daily Record and other local newspapers for over 22 years.
Lorson advises current and future students to take advantage of the incredible opportunities Wayne College has to offer. "Wayne College is small enough to comfortably let you figure out who you want to be, and at the same time, big enough to afford you the opportunity to dig deep and become that very person," stated Lorson.
Meeting his wife of 31 years, Kristin, at The University of Akron, the Lorson's are truly a Zip family. All three of their children have attended Wayne College. Oldest daughter, Charlotte (Andrew) La Belle is an alumna who is now a Captain in the US Army. Their son, Ben attended Wayne College, and finally, their youngest daughter, Sylvia is an alumna, who is now a student at Kent State.