Big dreams and good grades aren't enough to get into college. KnowHow2GO is a national public service campaign designed to inform young people about the actual steps they need to take to make their college dreams a reality. The campaign includes television, radio, print, outdoor and interactive advertising. It is sponsored nationally by the American Council on Education, Lumina Foundation for Education and the Ad Council.
For more information visit KnowHow2GO.org.


Holmes County Department of Job and Family Services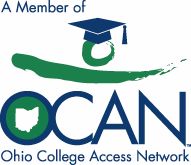 Millersburg is now an Associate Member of the Ohio College Access Network (OCAN).