Stephanie Livengood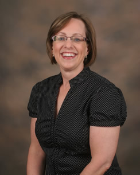 Title: Library Associate Senior
Dept/Program: Library
Phone: 330-684-8798
Email: steph25@uakron.edu

---
Biography
Stephanie has been employed at Wayne College Library since 1998. She performs a variety of tasks including reference, circulation and instruction.
Her interest in libraries was sparked in the 2nd grade when the Wayne County Bookmobile would make weekly visits to the Smithville Elementary School. A new book or magazine meant a new experience - a new adventure. More importantly, it led to an inspirational chat with the "bookmobile lady" Ms. Burns.
From grade school through graduate school, Stephanie could be found at the library. It was "home away from home." In 1987-1989 she was employed at the FAA Technical Center Library in Pomona, N.J. She experienced and learned first-hand the vital contributions information providers make to society. Through an employer tuition program, she began the Library Science program at Drexel University in Philadelphia, one of the nation's premier library schools, and completed the M.L.S. Degree at Kent State University in 1997.
Stephanie's daily goal is to provide accurate, up-to-date, high quality information to the Wayne College community. And, she tries to do it as "Ms. Burns" did years ago - with a smile!
---
Publications
"The best-selling Bibles: What librarians need to Know" by Stephanie P. Livengood,

The Christian Librarian

, December 2014, Vol. 57 (2), pp. 90-95.
"Financial literacy: a primer for librarians, educators and researchers" by Stephanie P. Livengood and Kathryn L. Venditti,

College & Research Libraries News

, February 2012, Vol. 73; Issue 2, pp. 88-91.
"Community College Library 2.0", team presenter, Academic Library Association of Ohio, 33rd Annual Conference 2007
"Evaluating World Wide Websites" Kent State Graduate Symposium, 1998
---
Education
Certificat d'etudes francaises, University of Neuchatel, Switzerland, 1984
B.A., French, Allegheny College, 1985
M.L.S., Kent State University, 1998
Certificate of Hospitality Management - Culinary Arts - The University of Akron, 2013
Member Phi Beta Kappa (PBK)
---