John Roncone, Ph.D.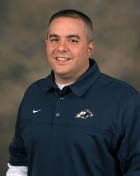 Title: Associate Professor and Program Coordinator, Sport Science & Wellness Education
Dept/Program: Sport Sci & Well Educ Wayne
Office: Wayne College B-219C
Email: roncone@uakron.edu

---
Biography
Dr. Roncone joined UA Wayne College full-time in the fall 2009. Currently, he serves as an Associate Professor and Program Coordinator of Sport Science and Wellness Education, Exercise Science Technology. He is also a Graduate Faculty member (Category I) for the main campus (SSWE).
He was elected to serve a second term on the Leadership Council for the Society of Health and Physical Educators (SHAPE) America-Midwest District (2017-2019) and Recording Secretary (Presidential Appointment (2013-15'; 2015-17'; 2017-2019). His professional association memberships include: OAHPERD, SHAPE America, SHAPE America-Midwest, Akron AAUP, American College of Sports Medicine (ACSM), ACSM-Midwest Chapter, and the American College Health Association (ACHA).
He serves as a reviewer for the Ohio Association for Health, Physical Education, Recreation, and Dance (OAHPERD) Grant, the National Collegiate Athletic Association (NCAA) Alcohol Education Program/CHOICES Grant, and the American College Health Association (ACHA) Abstract Reviewer for the Annual Meeting.
His community interests include serving on the Board of Trustees for the Orrville YMCA, Board of Directors for Orrville Area United Way and Growing Healthy Habits Coalition (Orrville). He served 3 years as a member of the Board of Trustees for the Wooster Y (Jan. 2012-Dec. 2014). He also established a partnership between the SSWE Department and ANAZAO (AY2016-present) and in the past with the Arthritis Foundation, Great Lakes Region (spring 2012 to spring 2014).
His research interests include: Health education and promotion, wellness education, active lifestyles, and ATOD behaviors among collegiate and interscholastic student-athletes. Dr. Roncone was the recipient of the 2012 OAHPERD Health Professional of the Year, the 2013 Midwest District AAHPERD Health College/University Teacher of the Year, and most recently, the 2018 Midwest District SHAPE-America Meritorious Award. He enjoys spending time with his family and enjoys reading biographies on baseball legends, such as Honus Wagner, Yogi Berra, Lou Gehrig and Ted Williams.
---
Education
Ph.D., Health Education & Promotion, Kent State University, 2005
M.S., Health Science, Slippery Rock University, 1995
B.A., Sports Administration, Mount Union College, 1994
---
Courses
5540:126/Fitness and Wellness
5540:190/ST: General Studies Physical Education/Beginning Weight Training
5550:100/Introduction to Sport Studies
5570:101/Personal Health
5550:150/Concepts In Health and Fitness
5570:202/Comprehensive Stress Management
5550:220/Health Promotion & Behavior Change
5550:245/Adaptive Physical Education
2670:250/Exercise Science Technology Internship
5550:330/Exercise and Weight Control
5570:421/Comprehensive School Health
---