Leslie Kallenborn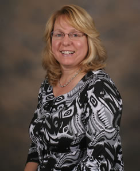 Title: Adminisrative Secretary
Dept/Program: Academic Affairs - Wayne
Phone: 330/972-8732
Email: ldkalle@uakron.edu

---
Biography
Leslie began her career at Wayne College in October 2009 working in the office of Academic Affairs. She is Administrative Secretary to 28 Full Time Faculty. Her duties include coordinating daily office operations . Updating and implementing data bases, organizing and overseeing projects, and minute taker for all Faculty meetings.

Leslie along with Dean her husband of 25yrs, live in Marshallville and together they have 4 children. Jacob the eldest is an Engineer student at the University of Akron. Kaitlyn is a 3rd year Accounting major at Transylvania University in Lexington Ky. Jessica is also at the University of Akron Majoring in Nursing. Kelsey is a Junior at Smithville high school and also a PSEOP student at Wayne College.

Leslie enjoys reading, spending time with her children, her two dogs Rocko and Max, and boating on Lake Cumberland.
---
Education
Chippewa High School 1982
---