Kristin Foy Samson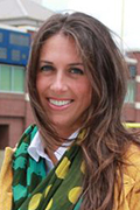 Title: Admissions Counselor
Office: Wayne College Student Life Bldg 203G
Phone: 330.684.8912
Email: kcfoy@uakron.edu

---
Biography
Kristin was born and raised in Wayne County and is a graduate of Smithville High School. During her collegiate career at Bowling Green State University, Kristin worked in the Office of Admissions and ran the student tour guide program. After graduating with her Interpersonal Communication degree in 2002, she held various sales positions in central and northwest Ohio.
In 2006 she went back to her college tour guide roots and landed an admissions counselor position at Ohio State ATI located in Wooster. She spent four years on their admissions team recruiting high school students from 40+ counties covering the western half of Ohio.
In 2010 Kristin became a Zip and joined the admissions team at The University of Akron. Beyond recruiting high school students from central and northeast Ohio, she also had various responsibilities planning campus events and was a liaison to the College of Business Administration and Alumni Association.
In 2016 Kristin transitioned her UA pride to Wayne College and is an admissions counselor on the Student Life and Enrollment Management team. Her primary responsibility is recruiting local high school students, and working with members of the Wayne College staff and area high school counselors to enhance the College Credit Plus program.
Kristin lives in Orrville with her husband, Walt, and their sons, Drew and Griffin.
---
Education
B.A. Interpersonal Communication, Bowling Green State University
---