David M. Milkovich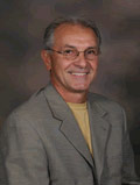 Title: Part-Time Professor, History Dept.
Dept/Program: History-Wayne
Office: Zook Hall 207
Phone: 330/972-7951
Email: david30@uakron.edu

---
Biography
Currently completing 9 semesters at Wayne College as a Part-Time Professor, History Department. Also serving as Director of Student Teachers & Field Experience, University of Akron.
Licensed Track & Field Official (OHSAA) serving in numerous positions at the local, district, and regional levels, including Indoor Track at The University of Akron and Kent State University.
Retired after 31 years of classroom teaching in Green Local Schools (Summit Co.).
Lifetime member of The Ohio Education Association (R) and the National Education Association (R).
Traveled extensively throughout The United States. Toured selected countries in Europe (Yugoslavia, Spain) and numerous countries in the Western Hemisphere.
---
Education
B.S. Ed., 1968 Kent State University
M. Ed., 1971 Kent State University
---