Amber L. Ferris, Ph.D.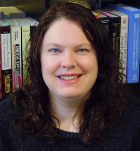 Title: Associate Professor and Student Scholars Program Coordinator
Dept/Program: Communication - Wayne
Office: C-210
Phone: 330-972-8710
Email: aferris@uakron.edu

---
Biography
Dr. Ferris joined the faculty at Wayne College in 2012. Her teaching interests center on increasing media literacy and communication competence, writing in the communication discipline, as well as techniques for reducing public speaking anxiety. Her research interests are in the areas of media uses and effects, primarily focusing on social media. She is the current Editor of the Ohio Communication Journal and is a member of the Executive Board of the Ohio Communication Association. She is also a member of the National Communication Association, the Akron AAUP, and the Association for University Regional Campuses of Ohio. She is the current coordinator for the Wayne College Student Scholars program, and the advisor for two student clubs on campus (Communication Club and the Gay Straight Alliance). In her spare time, Dr. Ferris enjoys travelling, relaxing with friends and family, volunteering with Stark Parks, spending time in nature, and being entertained by all things mediated.
---
Education
Ph.D., Communication Studies, Kent State University
M.A., Communication, Michigan State University
B.A., English, Michigan State University
---
Courses
Introduction to Public Speaking/Effective Oral Communication
Principles of Social Media
Introduction to the Media Industries
Communication Research
Interviewing
Interpersonal Communication
Persuasion
---