Dr. John Roncone (Bio)
Associate Professor and Program Coordinator
Sport Science and Wellness Education
Exercise Science Technology
Office: D-206
Phone: 330-684-8771
Email: roncone@uakron.edu
Program: Exercise Science Technology (EST). Exercise science is the study of how physical activity and the mental aspects of the human body work together to improve the body physically. The exercise science technology field focuses on the knowledge and skills necessary to increase the health and wellness of individuals, and to work in commercial, community, corporate, and clinical settings. Professionals in exercise science technology include fitness workers such as trainers and wellness coaches.
UA Wayne College Library Assignment Guides
UAWC Exercise Science Technology Joint Advisory Committee and Internship Sites (PDF)
UAWC Learning Outcomes and Exercise Science Technology Program Outcomes (PDF)
Health-Related Resources and Links (PDF)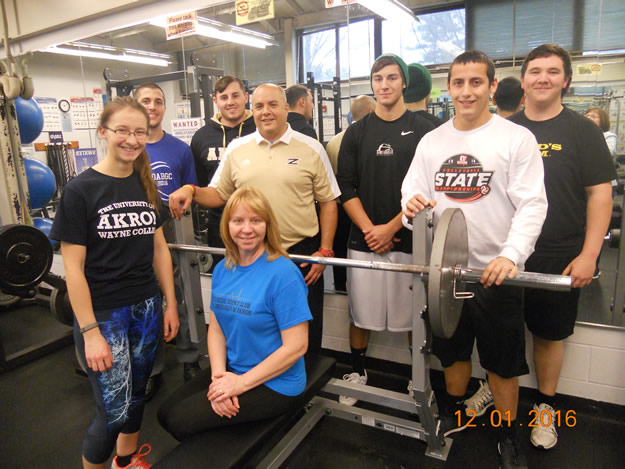 What our Graduates have to say:
"Starting my two-year EST degree at Wayne College was one of the best decisions of my life. Completing the EST program propelled me to finish my BS degree and find a job in the exercise science field right after graduation."
- James Rutt, BS, NSCA-CPT
"Choosing to pursue degrees in the Exercise Science field was a marvelous decision which allowed me to form friendships and contacts that have led to tremendous career opportunities. It is the outstanding instructors, who provide real life insight about their own careers and motivate their students to strive for excellence in and out of the classroom. Thanks to all of my current and former instructors I will obtain my Exercise Science Technology Associate Degree May 2014, pursue my Bachelor of Science Degree in Exercise Science, and then strive for my Master's Degree."
- Ms. Ayla Uhl, CPT
CAREER OPPORTUNITIES EXIST IN THE FOLLOWING AREAS:
Fitness Workers
Wellness Coaches
Fitness Trainers
Other fitness paraprofessional positions
Commercial settings such as for-profit, commercially run, healthfitness facilities
Community settings such as organizations and agencies with public parks and recreation agencies, schools and universities, hotels, country clubs, and residential health-fitness developments
Corporate settings, such as in-house, health-fitness facilities and services found in large and small businesses
Clinical settings, such as hospital-based health fitness facilities in areas of physical therapy, sports medicine and cardiac rehabilitation
Mission Statement: The Exercise Science Technology program's mission is to provide students with the knowledge, skills, and abilities essential for fitness paraprofessional positions in commercial, corporate, community, and clinical settings, such as fitness workers, wellness coaches, and fitness trainers, or to articulate into the Exercise Science undergraduate level program at the Akron main campus. These knowledge, skills, and abilities will be presented through the EST curriculum, including internship experience and faculty-student interactions.
Program Outcomes:
1. Demonstrate an understanding of the concepts of exercise science and the technical skills needed for career opportunities and success in the workplace.
WCLO: 1
2. Demonstrate an understanding of professional standards of ethics as well as respect for diversity, and knowledge of contemporary professional, societal, and global issues.
WCLO: 1, 2, 3
3. Demonstrate the ability to function as a professional, and a responsible person that contributes to today's society.
WCLO: 1, 2
4. Convey a capacity and desire to engage in life-long learning.
WCLO: 1, 3
5. Demonstrate an understanding of effective oral and written communication skills and appropriate use of technology in working with diverse populations individually and in groups.
WCLO: 1, 2, 4
Explore Key Core Courses for Exercise Science Technology (PDF)
Exercise Science Technology, Assessment of Student Learning, Program Outcomes and Goals (PDF)
Learn more by downloading our printable brochure
Course curriculum guides are in adobe PDF format. If you don't have Adobe Acrobat Reader, download it here.