Call for Makers!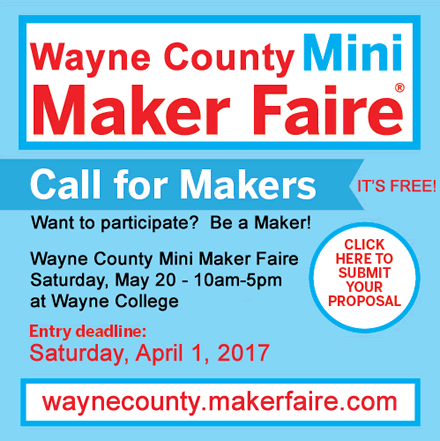 The Wayne County Mini Maker Faire will be here soon! Billed as the world's greatest show and tell, this DIY extravaganza might just make a maker out of you. These bizarre bazaars are gleeful public displays of innovation and do-it-yourself inventiveness.
Dale Dougherty, the father of the Maker Faire phenomenon, explains that "Faires are a celebration of making in our culture. It's experimentation and play. Most of the makers are creating something to interact with other people, or to get a reaction out of them."
We're looking for makers like you to exhibit at the event. There is no cost for individuals to demonstrate at the Faire. If you have creations you want to sell to the public, there is a small fee to participate. Please complete your entry HERE to tell us about yourself and your project.
Registrations via the Call for Makers will be accepted through April 1, 2017. To sign up for email updates about Maker Faire, please send an email to makerfaire@uakron.edu
Thanks and we look forward to you joining us!