Daniel Deckler, Ph.D., P.E.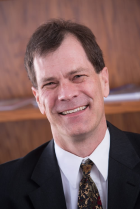 Title: Professor
Dept/Program: Wayne College Dean's Office
Office: Wayne College and Boyer HPE Bldg E242
Phone: 330-684-8761
Email: dcd@uakron.edu

---
Biography
In 1997 and 1998 Dr. Deckler served as an American Society of Mechanical Engineer's Congressional Fellow serving on Capitol Hill where he advised members of Congress on issues relating to science, engineering, and technology. In 2009 he returned to DC for the summer to serve as the faculty advisor for the Washington Internships for Students of Engineering where he advised a select group of engineering students from around the country on the intricacies of policy making.
Dr. Deckler is currently a member of the American Society of Mechanical Engineer's National Board of Government Relations and a member of the American Association for the Advancement of Science's National Fellowship Advisory Board. He has worked at Wayne College since 1991.
---
Education
Ph.D., The University of Akron, 2002
M.S., M.E., The University of Akron
B.S., M.E., Ohio Northern University
---
Courses
Statics
Mechanics of Solids
Dynamics
Control System Design
Design of Machine Components
Fluid Dynamics
Differential Equations
PreCalculus Mathematics
Tools for Engineering
---