Amber L. Ferris, Ph.D.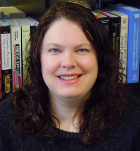 Title: Assistant Professor
Dept/Program: Communication - Wayne
Office: Wayne College and Boyer HPE Bldg C-121
Phone: 330-972-8710
Email: aferris@uakron.edu

---
Biography
Dr. Ferris joined the faculty at Wayne College in 2012. Her primary interests are media effects related to television, mobile communication, and social networks. Current projects include an examination of people's dependency on Facebook to achieve entertainment, social, and information goals, as well as the impact of reality dating programs on viewers' perceptions of dating and romance. Recently Dr. Ferris published two textbooks on communication with colleagues from Youngstown State University: Becoming a critic: An introduction to analyzing media content and Concepts, sources, integration: A step-by-step guide to writing your literature review in communication studies.
Dr. Ferris has been a member of the Executive Board of the Ohio Communication Association since 2012. She served as the Assistant Editor of the Ohio Communication Journal from 2012-2015, and will assume the role of Editor from 2015-2017. She is also the advisor for the Wayne College Communication Club, and the co-advisor of the Student Diversity Awareness Club.
---
Education
Ph.D., Communication Studies, Kent State University
M.A., Communication, Michigan State University
B.A., English, Michigan State University
---
Courses
Effective Oral Communication
Introduction to Public Speaking
Survey of Mass Communication
Group Decision Making
Interviewing
Interpersonal Communication
University 101: The Akron Experience
---