Colleen Teague
Associate Professor & Program Coordinator
Health Care Office Management
Office: A-105C
Phone: 330-684-8733
Email: Teague@uakron.edu
Medical Internship Information
Program: Health Care Office Management (HCOM). HCOM is an associate degree program which provides a broad knowledge base and deep skill set unique to managing medical office practices.
Wayne College was one of the first colleges in the country to offer an associate degree in Health Care Office Management. This innovative program integrates courses from three different disciplines - management / accounting, office administration, and medical assisting.
Employment of medical and health services managers is expected to grow 16 percent from 2008 to 2018, faster than the average for all occupations, according to the Bureau of Labor Statistics.
Health Care Office Management (associate degree)
General Option
Curriculum Guide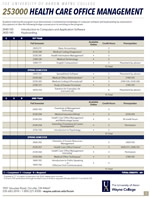 What our grads have to say:
"Wayne College offers the tools you need for success; great courses and a caring staff."
Becky Snyder, Office Manager,
Wooster Obstetrics & Gynecology, Inc.
"I found that the Medical Office program prepared me with a broad range of skills necessary to be confident in my new job. I appreciated the excellent instruction and support of the staff. The smaller class size contributed to a more relaxed learning environment."
Jenny Steiner,
Dunlap Memorial Hospital
Mission Statement: The mission of the Health Care Office Management Program is to provide individuals with the competencies necessary for the daily operation and general management of medical practices. The program stresses integrative and skill-building courses that emphasize practical applications for a comprehensive educational experience.
Program Outcomes:
1. Use logical thinking skills and appropriate office technology to produce effective written and oral communications in professional situations.
2. Use office management skills to maintain medical records, business records, and accounting systems; demonstrate appropriate mail and telecommunications techniques appropriate to the medical office.
3. Demonstrate skill in operating standard word processing, spreadsheet, database, and desktop publishing software to produce quality documents and reports.
4. Demonstrate knowledge of medical terminology, anatomy & physiology, disease processes, first aid/CPR, pharmacology, and medical office procedures. Use medical references including internet searches to obtain information.
5. Demonstrate a thorough knowledge of diagnostic and procedural coding; reimbursement systems including managed care; contract evaluation, negotiation, and management; and financial reporting.
6. Demonstrate knowledge of regulations and procedures in health information management and be able to manage data through the use of computerized patient records.
7. Demonstrate knowledge of human resource management including employment law, hiring and training personnel, conducting performance evaluations counseling employees, and discharging employees.
8. Demonstrate knowledge of medical ethics and medical practice law including confidentiality, release of information, and consent for treatment.
9. Demonstrate competence and time management skills in following directions, prioritizing, organizing data, meeting deadlines, business and career planning.
10. Demonstrate human relations skills in confidentiality, diplomacy, flexibility, initiative, teamwork, stress management, professional image, and maintaining ethical and legal standards.
Explore Key Core Courses for Health Care Office Management (PDF)
Health Care Office Management, Assessment of Student Learning, Program Outcomes and Goals (PDF)
Learn more by downloading our printable brochure

Schedule of Classes Information
Course curriculum guides are in adobe PDF format. If you don't have Adobe Acrobat Reader, download it here.